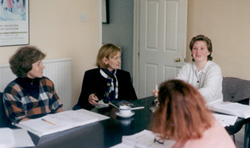 LTS was one of the first companies to organise in-service teacher training seminars for teachers of business and professional English. Since 1980 we have run numerous seminars at our centre in Bath and on clients' premises abroad. Seminars range in length from two days to two weeks, and cover topics such as needs analysis, course planning, testing and evaluation, teaching communication skills, intercultural training, using authentic materials and developing materials.
Our main course leads to the Certificate in Teaching International English for Business (Cert TIEB) awarded by London Metropolitan University. This usually takes place in Bath in June/July and December. We can also run the same course abroad, and have recently done so for organisations and companies in Berlin, Basle, Ingolstadt, Tallin (Estonia) and Frankfurt.
For more details of our Cert TIEB course, click here.
One of our largest projects was to train teachers of banking English in the Czech Republic and Slovakia, supported by the British Government Know How Fund in the 1990s; also during the 1990s we worked with the British Council to train over 400 teachers from business schools and faculties of economics throughout Russia, Poland, Hungary, Romania and the Baltic countries.
Mark Ellis and Christine Johnson, both senior LTS consultants and teacher trainers, are authors of the award winning Teaching Business English, published by Oxford University Press.


Home Page | About LTS | Courses in Bath | In-company Training | Intercultural Training | Language and Intercultural Training Journal | Training Materials | Consultancy Services